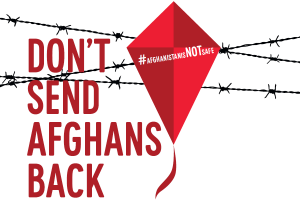 From 4 till 10 October 2018, all over Europe people will protest against deportations to Afghanistan. Put your values into practice and join us. Find a protest near you or add one yourself.
The idea..
.. is simple: you can join this Europe-wide event by organising or joining an event in your city. To help you prepare and show our common solidarity, take this in mind:
Promotion materials – We have prepared promotion materials that you can use for this campaign, but you are also free to make your own.
Symbol – Use the red kite as our common symbol to show solidarity across the different protests.
Color – We chose the color red as our common color of solidarity. Use it in your clothes, banners and promotion to reinforce our message.